Learn how to cook Spaghetti Squash, which is a great substitute for Pasta.
It is low in calories – just 42 per 1 cap, low in carbs – just 10 grams per 1 cap.
Spaghetti Squash contains vitamin C (5.4 mg per cap – 10% of recommended daily intake), B-6, thiamin, riboflavin, niacin, folate, pantothenic acid and vitamin K. A. It provides vitamin A in the form of the carotenoids called alpha-carotene and beta-carotene, which is good for your skin and eyes. 
It also contains manganese , aids in the production of healthy bones, tissues and sex hormones. It also plays a part in metabolism, regulation of blood sugar, absorption of calcium and the functioning of the nervous system.
Spaghetti squash include potassium, magnesium, calcium, copper, iron, phosphorus, sodium, zinc and selenium.
It contains fiber (2.2 g  per 1cup). Fiber may help in weight reduction as it makes you feel fuller longer.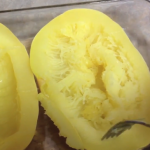 Spaghetti Squash is a great substitute for Pasta.
| | | |
| --- | --- | --- |
| | | Spaghetti Squash is a great substitute for Pasta. |
Cut squash in half lengthwise and remove seeds.

Place squash cut sides down in a backing dish with about an 1inch of water in it.

Bake it for about 30-45 minute (depending on the size) in 400°F oven. You can test it with a fork if it is soft.