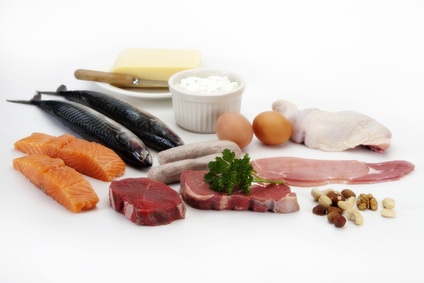 Proteins play an important role in nutrition.  More popular as the building blocks, they are necessary to repair, renew, and maintain healthy body cells.
Uses and Functions
Proteins make up practically your body cells.  You should find it everywhere in the body except in your urine and bile.  They have several uses and functions, such as the following:
Protein in blood is essential for the travel of oxygen to the body cells
Following a stressful activity, protein rebuild cells
They transport essential minerals to different places in the body
Some proteins enable you to move your body and perform your activities
Other proteins are in charge of your genetics such as the DNA and RNA proteins
They make up the structure of your body
Sources of Proteins
Therefore, proteins are indispensable for your growth and development.  Where do you source it?  This is where the importance of proteins to your nutrition comes in.  The primary source of proteins is from the food you eat or your diet.
Food types that are rich in protein fall under three general classifications:
High levels of protein – these are food items that have about 20% protein content.  Examples of this classification are the following: eggs, cheese, beans, yogurt, nuts, fish, seeds, as well as poultry products and red meat.
Medium levels – are food items that have around six (6) to 14% of protein content.  You need to mix them with one another or with other protein-rich food to complete your protein nutritional requirement. Examples are the following: oats, wheat, and rice.
Low levels – are food items that have minimal protein content or just about 5%.  Examples are fruits and most vegetables.
How to Benefit the Most from Proteins
Source your protein requirements for nutrition from food, and do not depend it on supplements alone.  Supplements help but should not be the major source of your protein.  Among the excellent sources are the following:
– Natural lamb meat
– Beans
– Eggs and other organic poultry products
– Seeds and nuts
– Small fish meat
Avoid sourcing your protein from processed meat and other food items that have undergone processing.  They contain substances and additives that may be toxic or harmful to your body.  Choose natural food as your protein sources.
Aside from the quality of your protein sources, it is also important that you consume enough to meet your protein requirements.  Use your recommended energy and nutrition intake or RENI as guide.  Anywhere between 60 to 80 grams daily may do.
Some Tips and Reminders
Here are some tips and reminders in sourcing and consuming your protein requirements for nutrition:
Choose whole food over processed and instant food.  They have minimal additives, if any, and are far richer in nutrients, vitamins, and minerals.
As much as possible go organic.  They contain less pesticide, if any, and are generally healthier and fresher.
Keep in mind that it will take your system longer to digest protein.  If your system is not able to digest it properly, it may rot in your intestines.  Hence, chew your food well and take your time in eating your food.  Your digestive system will do its job well this way.
As a rule, it is always best to eat a well-balanced diet.  This means you consume food items that represent each of the major food groups including carbs and proteins.  Your diet is the key, and proteins are very important to your nutrition.